Streets of Toronto Weather -Toronto, ON INDYCAR Race Weather
32°F
L: 28°
H: 34°
Feels like 25.38 °F
overcast clouds
Wind gusts: 3 m/s
UV Index: 0
Precipitation: 0 inch
Visibility: 10 km
Sunrise: 7:36 am
Sunset: 4:41 pm
Forecast Discussion & Updates
Honda Indy Toronto – Toronto, Ontario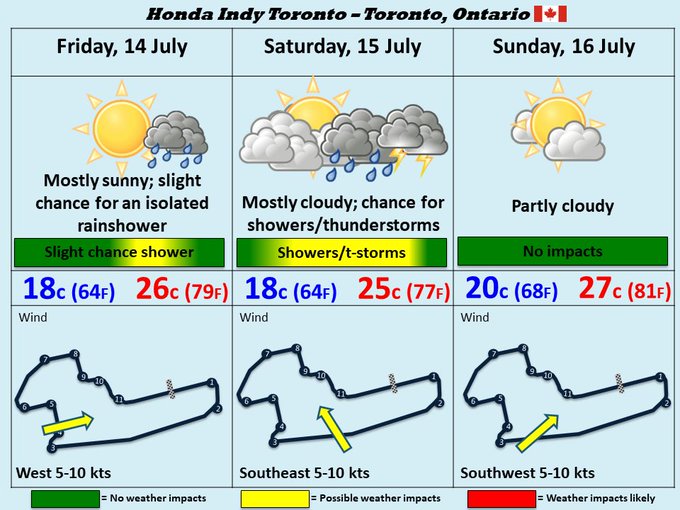 Meteorologists
IMSA Aaron Gosch (@GoschAaron)
IndyCar @IndyCar_Wxman
NHRA Elizabeth Ohlemacher (@NHRA_weather)
NASCAR & Formula One Aaron Studwell, Ph.D. (@RaceWeather) & Elizabeth Ohlemacher (@NHRA_weather)
The tight 11-turn, 1.786-mile Exhibition Place street circuit offers great views of downtown Toronto and often leads to cars attempting to squeeze past each other in turns. Many times, only one car makes it out unscathed. The long frontstretch leading into the Prince's Gate at Turn 1 and the Lakeshore Boulevard straight leading into a hard 90-degree right-hander at Turn 3 are the best places for overtaking.
To learn about sponsorship opportunities in INDYCAR Series Race at Streets of Toronto,
visit EC Sports Management.

Click here to contact their sales team.