Indianapolis Motor Speedway Weather - Indianapolis, IN INDYCAR Race Weather
Mostly Sunny, Chc of Showers & T-Storm after 8 PM
Chc for Early AM Showers & T-Storm, Slight Chc in PM
Forecast Discussion & Updates
64°F
L: 62°
H: 67°
Feels like 64.51 °F
broken clouds
Wind gusts: 5 m/s
UV Index: 0
Precipitation: 0 inch
Visibility: 10 km
Sunrise: 7:36 am
Sunset: 7:34 pm
Forecast Discussion & Updates
IndyCar – Indianapolis Motor Speedway Road Course – Indianapolis, IN
Fri Aug 11 – Some patchy morning clouds then mostly sunny…chance for a shower or thunderstorm moving in from the north beginning after 8 pm. High around 85°F. Winds SW 6-12 mph, gust 17 mph.
Sat Aug 12 –  Chance for early morning showers and thunderstorms, then slight chance in the afternoon. High around 86°F. Low around 69°F. Winds W 6-12 mph, gust 17 mph.
GALLAGHER GRAND PRIX – 2:00 EDT
Sun Aug 13 –  Mostly sunny. High around 85°F. Low around 65°F. WNW 6-12 mph.
 TGIF weather briefing: watching storm potential today as line approaches early evening..should be weakening as they go, and if anything arrives it should be after #IMS events. Winds will be picking up thru the day, especially by the time we get to @INDYNXT race..hi: mid 80s
All times in EDT
Updated: 8/11/23 8:30 AM EDT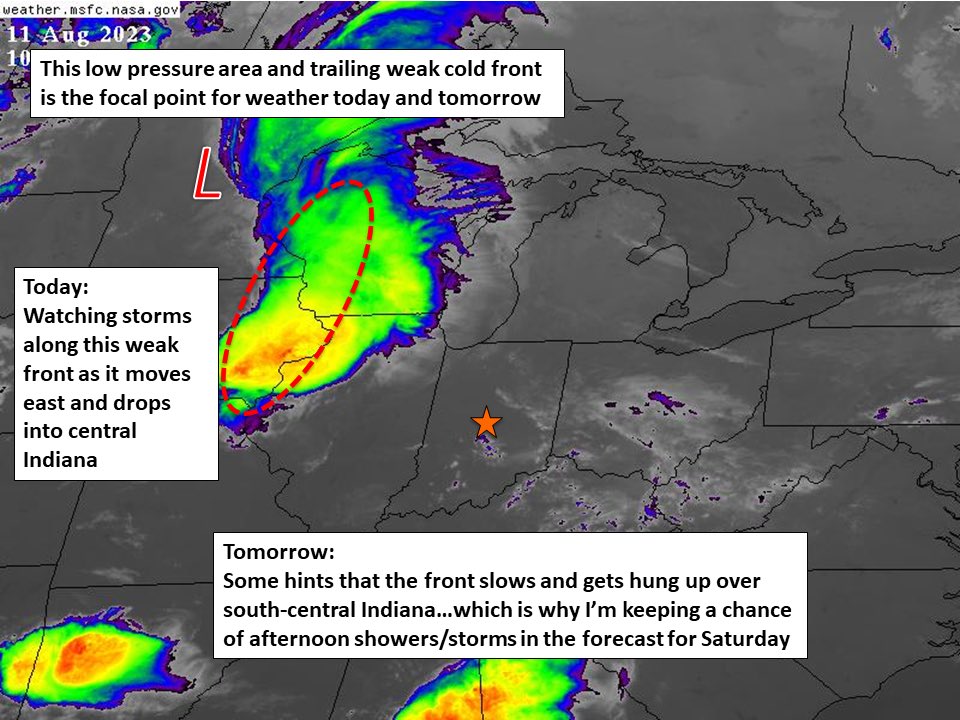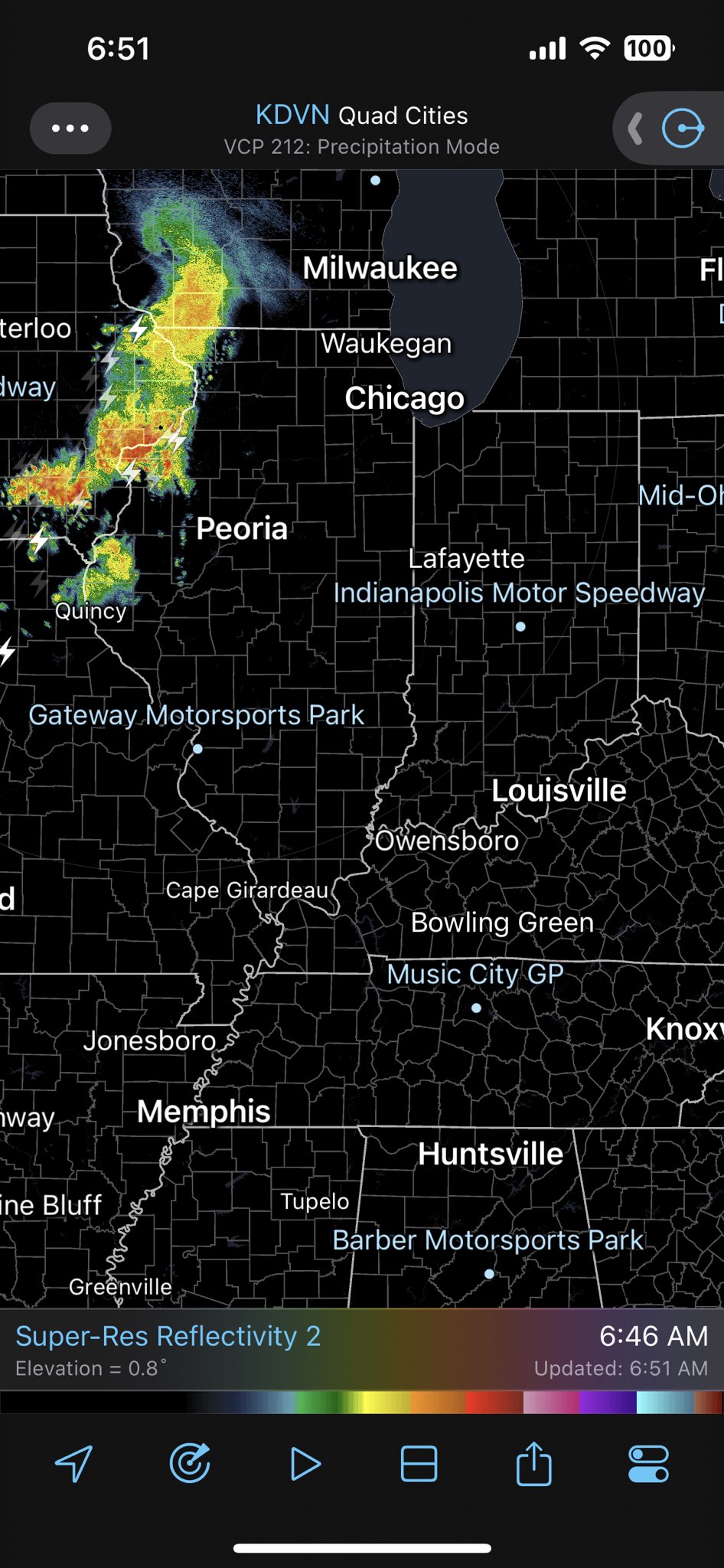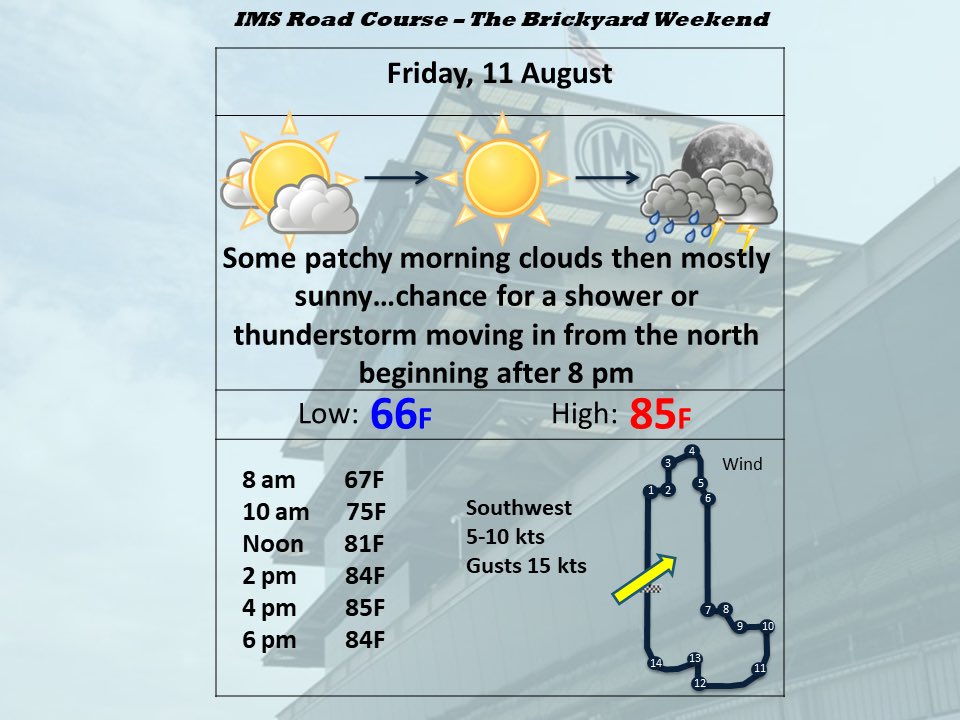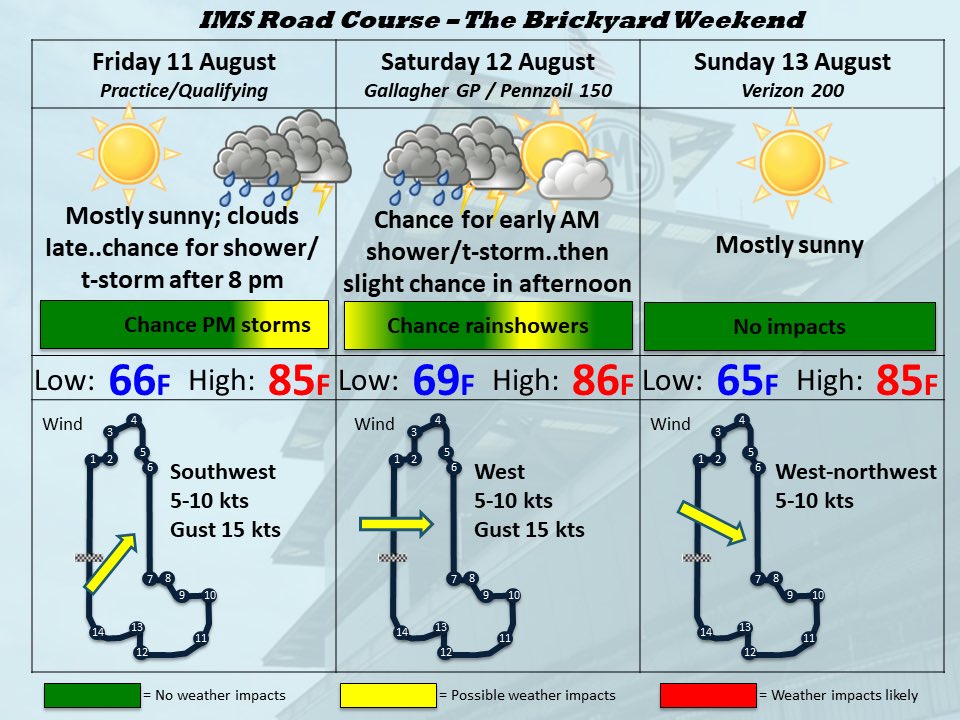 Meteorologists
IMSA Mark Sweeney (@IMSA_Wxman)
IndyCar @IndyCar_Wxman
NHRA Elizabeth Ohlemacher (@NHRA_weather)
NASCAR & Formula One Aaron Studwell, Ph.D. (@RaceWeather) & Elizabeth Ohlemacher (@NHRA_weather)
The Indianapolis Motor Speedway is an automobile racing circuit located in Speedway, Indiana, an enclave suburb of Indianapolis, Indiana. It is the home of the Indianapolis 500 and the Verizon 200, and formerly the home of the United States Grand Prix. It is located on the corner of 16th Street and Georgetown Road, approximately six miles (9.7 km) west of Downtown Indianapolis.
Constructed in 1909, it is the second purpose-built, banked oval racing circuit after Brooklands and the first to be called a 'speedway'. It is the third-oldest permanent automobile race track in the world, behind Brooklands and the Milwaukee Mile. With a permanent seating capacity of 257,325, it is the highest-capacity sports venue in the world.
Considered relatively flat by American standards, the track is a 2.5-mile-long (4.0 km) rectangular oval with dimensions that have remained essentially unchanged since its construction. It has two 5⁄8-mile-long (1,000 m) straightaways, four geometrically identical 1⁄4-mile (400 m) turns, connected by two 1⁄8-mile (200 m) short straightaways, termed "short chutes", between turns 1 and 2, and between turns 3 and 4.
To learn about sponsorship opportunities in INDYCAR Series Race at Indianapolis Motor Speedway,
visit EC Sports Management.

Click here to contact their sales team.