Indianapolis Motor Speedway Weather - Indianapolis, IN INDYCAR Race Weather
Forecast Discussion & Updates
29°C
L: 27°
H: 30°
Feels like 29.48 °C
scattered clouds
Wind gusts: 4 m/s
UV Index: 0
Precipitation: 0 inch
Visibility: 10 km
Sunrise: 6:19 am
Sunset: 9:05 pm
Forecast Discussion & Updates
Midway into the week and still very few changes to the #Indy500 forecast..story remains the same: weak front today resets temps by 10-15°…slow warming back to the weekend…everything still looks dry #INDYCAR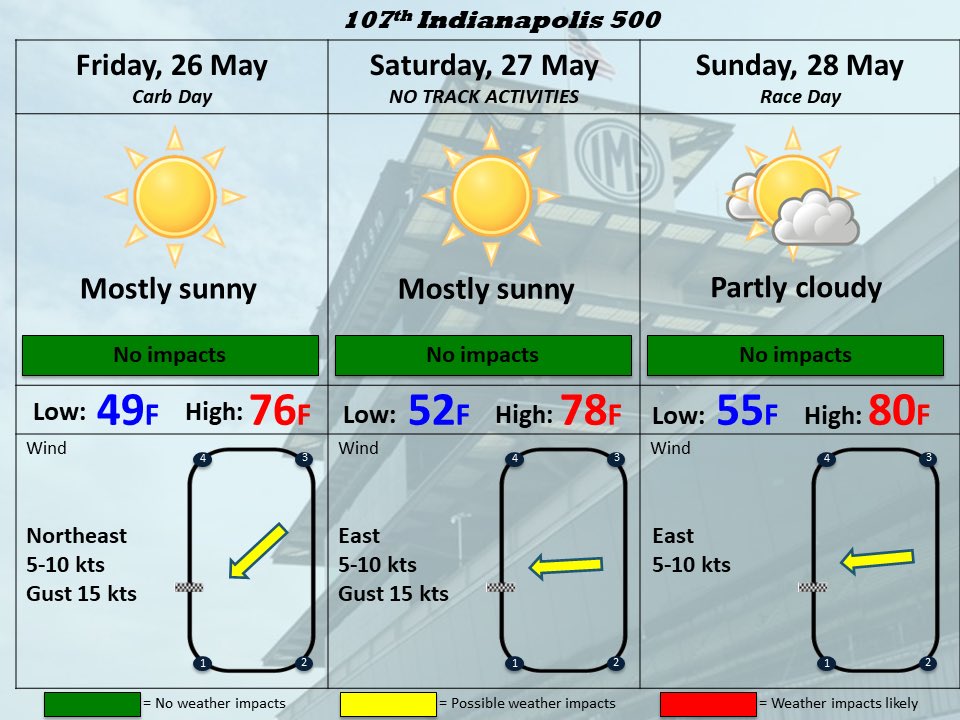 Meteorologists
IMSA Mark Sweeney (@IMSA_Wxman)
IndyCar @IndyCar_Wxman
NHRA Elizabeth Ohlemacher (@NHRA_weather)
NASCAR & Formula One Aaron Studwell, Ph.D. (@RaceWeather) & Elizabeth Ohlemacher (@NHRA_weather)
The Indianapolis Motor Speedway is an automobile racing circuit located in Speedway, Indiana, an enclave suburb of Indianapolis, Indiana. It is the home of the Indianapolis 500 and the Verizon 200, and formerly the home of the United States Grand Prix. It is located on the corner of 16th Street and Georgetown Road, approximately six miles (9.7 km) west of Downtown Indianapolis.
Constructed in 1909, it is the second purpose-built, banked oval racing circuit after Brooklands and the first to be called a 'speedway'. It is the third-oldest permanent automobile race track in the world, behind Brooklands and the Milwaukee Mile. With a permanent seating capacity of 257,325, it is the highest-capacity sports venue in the world.
Considered relatively flat by American standards, the track is a 2.5-mile-long (4.0 km) rectangular oval with dimensions that have remained essentially unchanged since its construction. It has two 5⁄8-mile-long (1,000 m) straightaways, four geometrically identical 1⁄4-mile (400 m) turns, connected by two 1⁄8-mile (200 m) short straightaways, termed "short chutes", between turns 1 and 2, and between turns 3 and 4.
To learn about sponsorship opportunities in INDYCAR Series Race at Indianapolis Motor Speedway,
visit EC Sports Management.

Click here to contact their sales team.