Mid-Ohio Sports Car Course Weather - Elyria, OH INDYCAR Race Weather
Mostly Cloudy. Chance for Late Afternoon Showers
Mostly Cloudy. Afternoon Showers/Storms
Mostly Cloudy. Chance for Storms 
44°F
L: 42°
H: 46°
Wind gusts: 2 m/s
UV Index: 0
Precipitation: 0 inch
Visibility: 4.02 km
Sunrise: 7:37 am
Sunset: 4:59 pm
Forecast Discussion & Updates
Latest from @IndyCar_Wxman: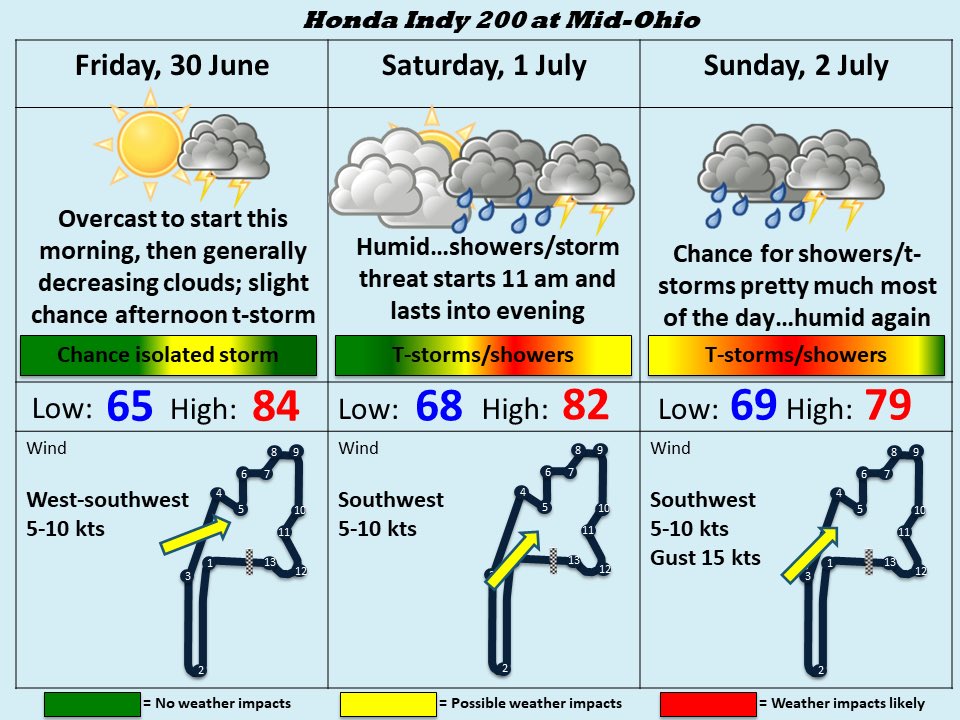 "Friday morning update: today's basically a transition day…slight chance for afternoon shower/t-storm, but that activity should be pretty isolated today, so low risk. Still seeing the more active threat for rainshowers starting around mid-day Saturday #MidOhio #Honda200 #IndyCar"
–  @IndyCar_Wxman
IndyCar – Honda Indy 200 at Mid-Ohio – Mid-Ohio Sports Car Course – Troy Township, Ohio
Fri Jun 30 – Mostly Cloudy. Chance for storms in the early morning and afternoon. Low around 65°F. High of 84°F. WSW winds, 5-10 kts
Sat Jul 1 – Mostly Cloudy. Humid. Hit or miss afternoon storms. Low around 68°F. High of 82°F. SW winds, 5-10kts. 
Sun Jul 2 – Mostly Cloudy. Humid. Chance for storms most of the day. Low around 69°F. High of 79°F. SW winds, 5-10 kts. Gusts to 15 kts
All times are in EDT.
Upload: 6/28/23 12:00 PM EDT
Meteorologists
IMSA Aaron Gosch (@GoschAaron)
IndyCar @IndyCar_Wxman
NHRA Elizabeth Ohlemacher (@NHRA_weather)
NASCAR & Formula One Aaron Studwell, Ph.D. (@RaceWeather) & Elizabeth Ohlemacher (@NHRA_weather)
Iowa Speedway is a 7/8-mile (1.4 km) paved oval motor racing track in Newton, Iowa, United States, approximately 30 mi (48 km) east of Des Moines. It has over 25,000 permanent seats as well as a unique multi-tiered RV viewing area along the backstretch. The premiere event of the track is the Hy-Vee IndyCar Race Weekend held yearly in July since its inaugural running in 2007.
To learn about sponsorship opportunities in INDYCAR Series Race at Iowa Speedway,
visit EC Sports Management.

Click here to contact their sales team.